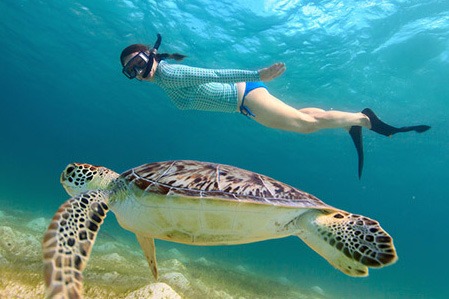 Not ready to try scuba diving yet? No problem. We offer fantastic snorkel tours that can be tailored to meet the needs of ANY group. Our typical snorkel tour will last between 2 and 3 hours and includes reef snorkeling at two different reefs. Beginners will appreciate the thorough instruction and close supervision in the water by our professional snorkel guides.
On each snorkel tour, the snorkel guide will brief you on the site, what you can expect to see and how to avoid damaging the environment. Snorkeling is very easy and most people quickly learn to relax and enjoy the experience. Remember to stay close to your snorkel guide since he'll be looking for unusual things to point out to you. The choice of snorkeling locations is determined by a variety of factors including the weather conditions on that particular day. All of our snorkel tours include snorkel gear, fresh towels and plenty of snacks and bottled water along the way.
Price: $60 for adults / $50 for children 12 and under. Add a cooler full of beer for an additional $5 per adult. A minimum of six snorkelers is required.