Liquid Blue Divers is a Premier PADI Dive Operator for Scuba Diving in Cozumel.
We Feature Concierge Service, Multi-Level Computer Dives, High-Pressure Steel Tanks,
Long Bottom Times And Small Groups On Fast, Canopied Boats.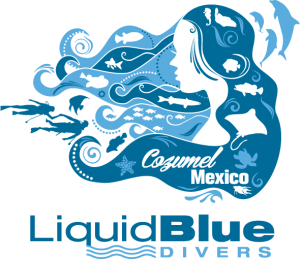 When You Dive Cozumel With Liquid Blue Divers – Remember, We Are In Business For You.
Your Satisfaction Is Our Personal Guarantee.
Liquid Blue Divers has established a dedicated following among scuba divers in Cozumel. Our divers value our personalized service, attention to the smallest details, small groups (a maximum of 6-7 divers per boat), and expert knowledge of our reefs and the island.
It is our goal to make every one of our divers feel special. As a result, we cater to the needs of the individual as well as the group. As Owner/Operators, we have the flexibility to create an experience tailored to YOUR desires. Have some special needs or requests? Simply let us know ahead of time and we will do all we can to accommodate you.
Did you know that you do not have to be a certified scuba diver to enjoy the thrill of SCUBA? Through what is known as a Discover Scuba Dive, our professional PADI instructors will teach you the basic skills and information you need to have you in the water before you know it! We are here to make you feel comfortable scuba diving Cozumel in a safe, fun and relaxed atmosphere. Start your underwater adventure today!
If you've been on a Discover Dive or just know that you'll love diving as much as we do, then why not go ahead and start with your Open Water Certification?  Our professional PADI instructors will have you through your certification course and open water dives completed in as little as two days.
If you are an experienced scuba diver, Liquid Blue Divers has a full range of certification classes such as: Advanced Open Water Certification, Rescue Diver Certification and Dive Master Certification along with continuing education specialty classes.
We want you to have a memorable scuba diving vacation in Cozumel and a great time scuba diving with Liquid Blue Divers!
WE OFFER:
Personalized service
Experienced guides
Professional Scuba Diving Instructors
Small groups on fast, small, canopied boats
Dry storage onboard
High pressure steel tanks – 100 & 120 cu. ft.
All scuba dives are multi-level computer dives and we provide complimentary computers
Long, relaxing surface intervals at a full service beach club
Handling of all scuba dive gear (including wetsuits)
Gear set-up, rinsing and storing daily
Scuba dive gear pick up at your hotel upon arrival
Hotel pier pick-up at most locations south of town
Daily equipment rental
Boat equipped with DAN O2, first aid kit and marine radio
Dry towels
Wind/rain jackets on cold/rainy days
Great snacks like fresh fruit, cakes, muffins, granola bars, cookies, etc.
Purified bottled water
Gear drop off at your hotel upon departure (clean, dry and pack-ready)
Contact us today to see how we can make your next dive vacation in Cozumel the best ever!